Why are they spraying and what?
Want to know how you know they are up to no good...?
Now let's think about that for a minute?... We can't find any photos of "contrails" that look like this... that is over 10 years old... Ok well that proves firstly, this is a new event.
The materials disbursed in stratospheric aerosol geoengineering operations contain a combination of ionizable metallic salts, filaments, gel-type materials, and crystals. These are the longstanding and deeply interrogated observations of independent environmental research scientist Clifford Carnicom given on a December 10 conference call organized by
GlobalSkywatch.com
director Russ Tanner.
"The ultimate solution is a multiplication of leverage by citizens to the point where it simply cannot be denied". -
Clifford Carnicom
TIME LAPSE VIDEO OF CHEMTRAILS
SO THAT IS NORMAL YA? NOTHING TO WORRY ABOUT?
Video: "what in the world are they spraying" Documentary
And oh, ya don't forget about this....
From Wikipedia, the free encyclopedia
Are rouge scientists trying to save the world without our knowledge?...
US geoengineers to spray sun-reflecting chemicals from balloon
Experiment in New Mexico will try to establish the possibility of cooling the planet by dispersing sulphate aerosols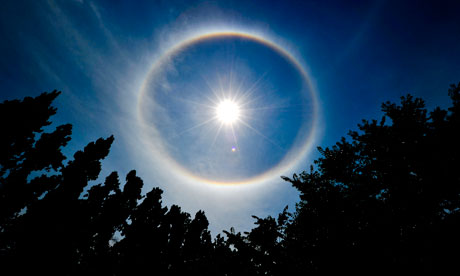 The field experiment in solar geoengineering aims to ultimately create a technology to replicate the observed effects of volcanoes that spew sulphates into the stratosphere. Photograph: Gallo Images/Getty Images
THIS IS FROM THE GOVERNMENT!!...(below)
Hmm... Starting to make sense now?... here is just a bit more...
With the British weather threatening to put a dampener on the Olympic games, why doesn't the government just make the sun shine?
At the risk of sounding like a mad scientist unveiling a doomsday device, it can be done. In theory at least.
The Chinese government seeded clouds ahead of the 2008 Olympics opening ceremony to create a downpour elsewhere and keep the stadium dry.
This involved firing rockets packed with silver iodide crystals into rain clouds over the suburbs of Beijing.
The technique is regularly used to boost rainfall in drought-stricken areas of China, although it has proved controversial with allegations of "rain-theft" levelled at provinces which deploy precipitation shock troops too zealously.
It is also possible to "over nucleate" clouds with many particles so that they hold in their moisture until they have passed over the target area, experts say.
Cloud-seeding is used around the world to prevent fog at airports, stop hail damage in cities or to boost snowfall at ski resorts.
Watch the video on the bottom of this BBC article explaining how and why they spray the clouds. They are open about this, they are not hiding it. It's only the SHEEP that dismiss this because they know nothing about it, why? cause they don't care about anything. It's time to wake up sheeple. They are now playing god with the weather and you let them.
http://www.geoengineeringwatch.org/ (Check out this website too!)